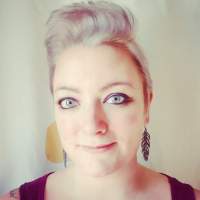 Layla Lochran
Suspense, Supernatural Suspense, Action & Adventure, Contemporary Romance, Romantic Suspense, Paranormal Romance, Romance, Erotic Romance, Time Travel Romance, LGBT, Science Fiction, Fantasy
Profession

Writer, Baker, Mom,
Layla Lochran is the Amazon International Bestselling author of the Tell All Secrets contemporary/ military romance series and the Ambrota Defenders paranormal sci-fi romance series is nestled deep in the woodlands of a quaint little ski town of Western New York with her family and two cats. Her head has always been in the clouds, ever expanding her imagination and wacky ideas, many not knowing what she may come up with next. Rockin' out at concerts, fun photography, and bright colored hair are just a few of her hobbies, as well as having fun with special FX makeup, props, and costumes with her son, school, and community. Other than reading and being an audiobook fanatic, Layla enjoys helping others find their creative edge and express themselves. Someday she will travel the world to see all it has to offer, for now she will remain in the clouds.
Life is short; live every day to the fullest, love exponentially, stay positive, and give it your all.
Action should culminate in wisdom.
Bhagavad Gita